Real estate is one of the largest investment classes in the world, involving substantial sums of money over a long period of time. As a result, processes and property registrations are time-consuming and require many documents. Implementing Blockchain in the real estate can change this for good, but there are still a few challenges.
In 2020, real estate is seen by investors as a non-transparent and illiquid investment compared to equities and bonds. Yest, as more information is being documented to gain extra transparency, liquidity is established through new forms of real estate investment such as crowdfunding schemes. In this particular circumstance, the shortage of information necessary to provide total transparency is regarded as an increased risk by all investors.
Nevertheless, the real estate industry has a wide variety of information domains, especially in advanced markets. However, within these domains, data is often slices and not shared with others, therefore, creating a fragmented data trail.
One of the biggest issues is trying to find an integrated approach that offers more visibility in property sales and the financing of it. This is where Blockchain comes in.
By harnessing a decentralised model, the real estate industry has the potential to become more streamlined, efficient, and transparent in any domain. It will provide the building blocks to grow the industry and open it up to new markets. Blockchain also allows the real estate industry to save resources or reduce carbon emissions and make internal processes more sustainable.
Regardless of this fact, potential remains the keyword in this matter, as the adoption of Blockchain in the real estate industry has not been as significant as the one heavily documented in the finance industry.
With this in mind, let's explore some of the ways Blockchain can disturb the real estate industry and uncover what the future can bring with the backing of businesses.
Where does Blockchain fit within the real estate industry?
Time and time again, Blockchain technology is being compared to the beginnings of the internet in how it is entering the market and the ways it is trying to revolutionise the world of technology.
Its ongoing prominence, particularly in the financial space, boils down to its immutable nature. Creating a system which requires no third-party intervention removes processes within processes and instantly streamlines everything. Storing data on nodes provides greater transparency, too.
However, changing the way in which we exchange values and data is not a quick fix. There are many variables involves and requires complete adoption before its potential can be truly realised.
Nonetheless, the transition period required with any great innovation does not detract from how Blockchain is and will disturb the real estate industry. It is simply a matter of when, not if.
The bottom line is, the current real estate industry requires more efficient ways of managing values, data and rights in a transparent and optimised way, plus the problems of a contractual nature that come part and parcel with these things.
Blockchain allows transparency of the data and brings the possibility of incorporating verification into the infrastructure for complete peace of mind.
For example, tokenisation within the global real estate industry will make it possible to have a set global value which can be transferred in real-time, without the need for intermediaries. Blockchain will also allow investors to record events in a certain, immutable and verifiable way.
When it is applied to the real estate industry, people can benefit from the management and the exchange of the value of the property.
However, during the development stages of this technology, it is vital to build an infrastructure that supports its potential while adhering to ever-evolving regulations.
How Blockchain can tackle common challenges
While Blockchain adoption is still relatively low and the technology remains largely untested, there are two particular areas of real estate that can benefit form its usage: repetitive transactions and outdated liquidity.
Let's break these down further and address the challenges facing Blockchain, using some real use cases from around the world.
Automating micropayments
Let's use a regular parking system as an example of automating repetitive real estate payments.
In today's world, most car parks are frustrating to navigate and long-winded in process, consisting of taking money, recording the transaction on a paper slip and then that slip telling another human or machine that you have paid, before letting the customer leave the car park.
Running one is as equally demanding, with faulty machines to contend with and managing humans to do the work. It takes just one malfunction to cause a bottleneck in the parking system.
However, with Blockchain, drivers can find, reserve and pay for a parking spot through a mobile app using tokens. The car park will receive a real-time shot of availability and there are no slow processes to cause any issues.
This concept is being championed by the prospective solution provides, Parkgene, who allow users to benefit from this service by using their Gene token.
Naturally, this is just one example of a repetitive real estate transaction that can benefit from Blockchain automation. Similar ideas are currently being considered for hotel, rentals and regular utility payment processes.
In fact, during the FIFA 2018 World Cup, Russian hotels were allowing visitor to pay for their stay using tokens. This cut out the need for management companies and third parties who charged premium prices.
There are many companies using Blockchain in the real estate to boost the industry, and LockChain is one of them. It is a fine example of automating the payment process. Acting as an AirBnB to major hotel chains, they allow them to list available rooms directly on their blockchain using a native token for a fixed monthly fee. There are no commissions involved.
Removing any paperwork
With complete adoption of Blockchain within the real estate industry, buyers and sellers of properties can enjoy the luxury of no paperwork.
But as it stands, trying to process the sale of a property into real money which you can use to buy a cup of tea or another house involves banks, real estate agents, home inspectors, to name a few.
By moving some of the paperwork associated with buying or selling a home onto the blockchain will instantly streamline the process and make the transaction fairly simple. The idea is that every party will have access to the applicable documents, whenever they want.
The way to achieve this is through smart contracts, which can be converted into rental contracts, as well as sales. All smart contracts must be verified and time-stamped by the blockchain, depending on a set of pre-agreed stipulations instead of by an agent or notary.
For a rental agreement, these pre-agreed stipulations can include details about the rent terms decided, the monthly rental amount, the deposit amount and so on.
When buying a property, smart contracts can be drawn between a buyer, their bank and title clearing authority. Following the bank sanctioning approval of their loan, the title of the property will automatically be transferred to the buyer.
Removing the reliance on sending multiple documents between various parties will reduce the fees, too, as there won't be any extra human processing required.
One company exploring this area already is REX. Using their own REX token, buyers and sellers can find, list and buy properties. Furthermore, the REX blockchain system rewards its users for keeping information stored clean and timely.
Sharing the wealth
The real estate industry is a trillion-dollar business, which has not flown under the radar with crypto investors. Several cryptocurrencies could easily take control of the real estate realm and spread the fortune over a wider investment base.
With the current system, it can take a serious amount of capital to invest in real estate. So, unless a business or investor can borrow a few million dollars, they'd be forced to pool their resources in an arrangement, such as a timeshare. This concept brings an array of complications, with the timeshare management company sat right in the heart of it.
An initial solution to this challenge is currently being developed by CrowdVilla. Their visionary approach involves using the proceeds from its initial public offering (IPO) to purchase vacation rentals. These can be used with the company's CRV tokens. In other words, it is timeshare without the complexities.
Putting a stop to identical records across multiple stakeholders
Another serious challenge in the present real estate system is that there are too many stakeholders involved. Not only does this drive cost up, but it complicates the documentation process and storing of data, too.
The information across the network of stakeholders is often inaccurate and fragmented, which results in customers having to go through the same procedure multiple times.
There is also a lack of trust among these stakeholders, with many failing to keep the current system updated and working in real-time. In turn, this makes processes time-consuming and costly. Having no cohesive system in place for stakeholders can lead to data loss, fraudulent activity, transparency and a lack of security.
However, with the help of the cryptocurrency, bitcoin, the Blockchain ledger technology can be implemented into the system. The public ledger is able to hold one single truth across the millions of nodes, making the data more accessible and transparent.
It is possible to have one single truth across the real estate platform, too, giving stakeholders access to the same set of information. Any changes made by them are then automatically updated across the system for every stakeholder to see, including timestamps and digital signatures.
There is no lying with the Blockchain ledger, therefore, creating an honest and transparent process. Additionally, it saves time by not having customers having to repeat the same tasks again and again.
Addressing the misconceptions
Before Blockchain makes a vast mark on the real estate industry, certain misconceptions need addressing, which is something every investor needs to be aware of.
Firstly, research states that a lot of people think that real estate information is stored in a blockchain. In fact, this isn't the case at all. Instead, a Blockchain solution in an existing information flow will add a limited amount of information in relevant places to make existing information completely reliable for stakeholders.
Blockchain should never be regarded as the absolute solution. It's a small, yet important, part of the entire digital solution, making information flows far more efficient.
In other words, Blockchain in the real estate industry is a business model enabler with the potential to add true value to processes which handle essential information.
As an investor of business looking to operate in the real estate industry, it's imperative that the data infrastructure in place is in order and the quality of data stored is at a reasonable level. If it isn't, then there is very little chance of utilising Blockchain to its true potential.
Traditionally speaking, real estate isn't the most digitalised industry, with the life cycle often spanning across several decades. From design through to realisation, use and management to redevelopment, all information from every stage tend to be kept in silos, making it disjointed. This also makes it easy to lose information during the life cycle, especially when the real estate in the chain moves from one link to another.
On the flip side, maintaining this provides a revenue model for several intermediaries in the current real estate chain, who are determined to maintain their job of tracing, updating or reproducing missing information. Blockchain threatens this whole process, creating a streamlined and more cost-effective solution.
Nonetheless, there seems to be an acceptance that carrying out a real estate transaction and putting the data in order will involve high costs. Just like the misconception regarding the type of information stored, this ignorant attitude towards preserving an outdated model will take time to alter.
Like most major innovative technology, mass adoption requires the innovators among us to educate the non-conformists, starting by implementing the right framework.
The adoption framework required
As it stands, Blockchain technology is in its initial stages, particularly in the commercial real estate industry. The outcome of many of its applications will probably be determined by ongoing experiments and listening to consumer demands.
In the meantime, it's extremely important to implement the right framework, or Blockchain technology can end up increasing costs.
With that said, the potential far outweighs the risk when the following factors and steps are carefully considered.
What are the focus areas for the adoption of Blockchain in the real estate? Let's explore them.
Educating the wider business
The first stage for real businesses to think about is education. Unlike other technologies like mobile and cloud, Blockchain is a confusing concept which raises a few questions regarding what it is, how it works and why it's important.
To make matters worse, some of the earliest use cases involving the cryptocurrency, bitcoin, are now deemed as irrelevant or pointless.
As a business, it's important to prioritise the education of staff and decision-makers on these factors. This also includes taking a disciplined approach towards innovation and analysing a prototype showcasing a use case specific to its specific industry.
Deciding whether to collaborate or innovate
There are two options when adopting Blockchain technology: create a solution or team-up with a trusted vendor who can tailor a platform to the needs of the business.
If a business is new to Blockchain technology, it's worth partnering with one or more vendors. But before committing, businesses need to understand what makes a prospective partner's services unique. Are they willing to co-invest in the solutions or proofs of concept that'll meet the needs of the business?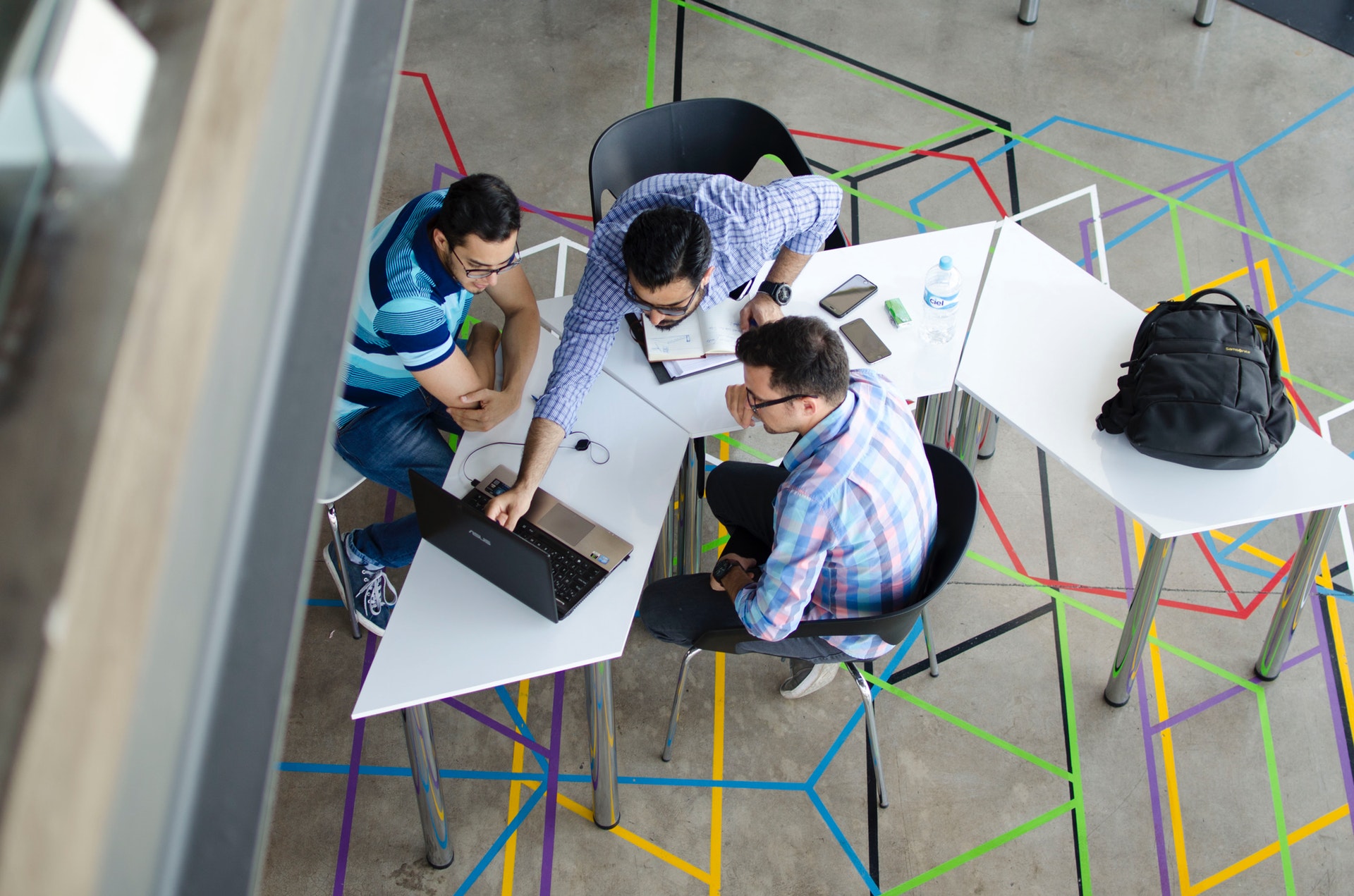 It's the job of the business to look out for specific caveats regarding understanding the leadership team, board, VCs, funding level and financial viability. The exit strategy needs to be factored in among this too, in order to prepare the business for any future scenarios or negotiations.
If it's possible, partnering up with peeps and competitors might be a viable option too.
Making the process easier
Once the education process and decisions on collaboration are done, businesses need to focus on facilitating the implementation. Businesses must focus on ways to create digital identities of their people, properties and enterprise as key enablers to Blockchain applications, such as smart contracts.
It's worth remembering that while Blockchain is immutable, it does have areas of security that'll need addressing. For example, a business must decide on whether the type of Blockchain is made public, private or hybrid. This can be decided by looking into current regulation and conducting a risk assessment.
In the current market, the progress of Blockchain technology is moving at a faster rate than regulation, which can grant businesses more freedom in the short term. However, it's worth planning ahead and making a robust solution, otherwise, when regulatory bodies do catch up, it could be hard to adapt the solution, which can cost a lot of money to fix.
In all likeliness, public blockchains will be subject to oversight by governing bodies similar to those ruling various parts of the internet. Whereas private blockchains will be managed under private agreements.
Conclusion
In a world where technological advancements are frequently brought to market, there's always a guarantee to improve profitability or operations. While the path to mass adoption isn't completely clear for Blockchain technology, there's no denying that its potential can live up to this guarantee, providing businesses invest in education, training and the technology itself.
With the right framework, strategy, guidance and financial plan in place, Blockchain will improve transparency, drive efficiency, cut costs and address outdated processes which plague the real estate industry today. If executed properly, it can also be hugely beneficial for the crypto space as well, because it'll actively encourage the use of utility tokens.
The truth is, when it comes to the implementation of Blockchain in the real estate industry, we've only scratched the surface. With so many untouched areas to explore, who knows how many more exciting use cases are on the horizon?